HI Friends! What does every crafter want? A room to themselves, right?? I finally decided I needed one since my stuff spanned everywhere across the house.
Not that it still doesn't now sometimes, but at least I can find stuff now! I took on a Craft Room Makeover on a budget and I loved how it turned out!
My favorite part of the room is that I installed a super easy wall mounted table DIY style!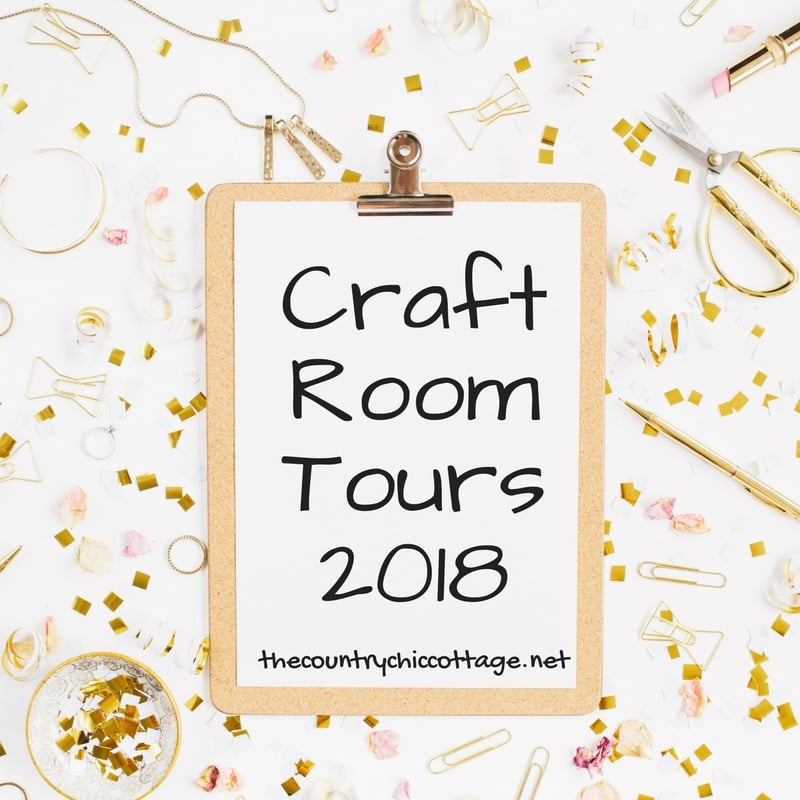 You are also in luck, because this post is also part of a Craft Room Tour hosted by The Country Chic Cottage. So, make sure to visit Angie over at the Country Chic Cottage to check out the whole list of inspiring craft room tours!

A little background on my craft room…
Our downstairs bedroom has always been a guest room/office/sewing room/junk room! A few years ago I had a murphy bed made which was an amazing start.
I was sick of having a big queen bed take up a whole room when we only had guests stay in it a few times a year. So I found a guy off Craigslist who made one and installed it and it has stayed in the original wood plus my little ones color markings all over it since then.
So, here's what the room looked like before, which I'm sure a lot of you can relate too. Stuff everywhere!!! I had a sewing table but that was definitely not enough room so I usually had a folding table set up in the middle of the room with stuff overflowing, yikes!
There's the ugly wood colored murphy bed on the left side (I know, it's hard to find anything!)
So, I started by emptying the whole thing out and repainting over the ugly pea green which had been there for the past 10 years. I sold our large desk and bought a smaller one.
We made a trip to IKEA and I found some fun stuff to use – a new large workspace desk and a cube bookshelf. I got a pegboard from Lowe's, painted it, and hung it above the desk.
I got a bunch of storage bins from 31 Bags, Ikea, and Target and labeled them.
We moved the sewing table into the closet where the desk used to be and added a file cabinet underneath it for my hubby's stuff (this is technically still an office too!) Here's the finished product!
Probably my favorite thing I thought of doing was attaching a wall mounted table diy to the murphy bed so I could have another table that would fold up when we needed to use the bed.
I got the table top from IKEA along with a shelf I used as the stand. We anchored it on the murphy bed wall with a 2×2 board.
I got a few hinges and added them to the tabletop and shelf. Then we put velcro on the tabletop and murphy bed (which is the only eyesore since I haven't painted it yet and it's bright white). But it's strong enough to hold the table up.
Well, that's how the room turned out! It's so nice to have a workroom with a murphy table now even though it still gets messy a lot since I use it so much!
Update: I have since updated my craft rooms a few times! I got a kallax from Ikea and a Create room cubby!
Now, make sure to visit The Country Chic Cottage by clicking here to check out all the other craft room tours!
Thanks for stopping by! Have a great day!