Make all your personalized family gifts this year with your Cricut. Browse this list of personalized gift ideas for him, her, kids, really anyone!
If you've been following me for a while, you know I absolutely love personalized gifts. I love receiving them and I especially love making them.
I try to give unique personalized gifts for birthdays, Christmas, party favors, graduation, really anything that I am giving a gift at. It makes my heart happy when I go to my friends or family homes and see one of the custom gifts I made for them on display. I know it means a lot to a person I love, so it means a lot to me.
Giving personalized gifts doesn't have to cost a lot if you have a Cricut. A Cricut is a pretty big investment upfront, but I have saved so much money over the years by making the majority of the gifts I give.
This is a sponsored conversation written by me on behalf of Cricut. The opinions and text are all mine.
Make sure to learn all about a Cricut Explore and a Cricut Maker if you don't know much about these amazing machines.
So What Are Personalized Gifts?
Personalized gifts are unique gifts that are specific to the recipient. This could mean having someone's name or monogram on something.
Or it could be putting someone's favorite quote, scripture, or animal on something. There are a ton of ways to make DIY personalized gifts and honestly, having a Cricut makes the possibilities endless.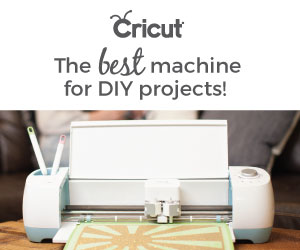 What Things Can You Customize?
Nowadays, you can really customize anything. By simply applying vinyl or iron-on vinyl to almost anything you can think of, you can make a unique and pretty cheap personalized gift. (But don't tell them you didn't have to spend much money!!)
You can also use a Cricut to etch on glass and to engrave on acrylic or leather. The newest Cricut blades open up the creativity door even wider!
Top Things to Customize:
Glassware – wine glasses, mugs, plates, vases, mirrors
Apparel – t-shirts, pajamas, shoes
Accessories – totes, bags, earrings, belts, scarves
Decor – signs, tiles, wall decals, craft glass blocks, ornaments, stockings
Kids Stuff – lunch boxes, backpacks, phone cases, laptops, towels
Kitchen Supplies – oven mitts, tea towels, wooden spoons, kitchen decor
How Do You Customize Something?
This is the fun part! With a Cricut, it is so easy to customize anything. The easiest way to customize a gift is to add some kind of vinyl to it.
You can cut out a person's name or monogram with adhesive vinyl and apply it pretty much any product they love. Or cut out iron-on vinyl and adhere it to something that is fabric, wood, or even faux leather.
My favorite way to customize something is by using someone's handwriting. These type of sentimental gifts really touches the recipient because they know you put thought and time into their gift.
In today's rushed world, where gift cards are the norm, when someone gets a thoughtful custom gift it will easily tug at their heartstrings and launch it to their top cherished belonging.
Favorite Personalized Presents I've Made
I've loved making many gifts, but probably my favorite personalized gift I made was when I added my beloved Grandma's recipe to an oven mitt. My Grandmother was a huge part of my life and all of my cousins. We all remember her teaching us to bake and always being in the kitchen with her when we visited.
When I came across one of her recipes that was hand-written on a recipe card I knew I'd have to figure out a way to transfer it to something. Using some free software and my Cricut, the end result brought tears to my eyes and to the eyes of the recipient.
From then on, I try to use my kids' handwriting or artwork on the majority of personalized family gifts I make. With all the technology today, we don't see too much of drawings or handwriting anymore which makes me sad.
What Are The Best Personalized Family Gifts
So now that we've talked about the ideas behind making customized gifts, let me give you a bunch of examples with tutorials so you can make your own.
Click on "Continue Reading" to jump on over to the tutorial.
DIY Personalized Family Gifts
I love making personalized family gifts with my Cricut. There are never-ending possibilities on what handcrafted gifts to make.
So there you have it! Over 25 DIY personalized family gifts to make with your Cricut.
I'd love to know what you come up with!
If you'd like to save these ideas for later, simply hover over the image below and PIN It now.
Thanks for stopping by and have a creative day,